Well, I finally made it to the mother country, or perhaps more accurately, my mother's country. Portugal welcomed me back with open arms, in which I tightly wrapped myself in an attempt to recover from a feverish bout with the flu, a state exacerbated by Italy's underdeveloped pharmaceutical industry in which no one drug is capable of curing more than just one symptom. The first night in Porto I slept 15 hours, dreaming of Nyquil and body temperatures under 100 degrees. Luckily, by the next day I was able to push through my remaining symptoms and begin enjoying my trip.
There were countless things in Porto that reminded me of my mom and the whole Portuguese side of the family. One was Sumol, a fruit soda. I had no idea there were so many flavors! Also, there were roosters ALL OVER the town, just like there are roosters ALL OVER my house. I felt right at home. We have a joke in the family that any wacky-colored house we see must be Portuguese, and believe you me, by this standard, all the houses in Porto are most certainly Portuguese. Perhaps more than anything, I loved eating so much bacalhau (cod), which we eat every Christmas in my family. In this town you can pay very little and eat like a queen. Fish sections on menus would literally consist of 4/5 bacalhau dishes. And how delicious everything was, usually very rich and oily, buried in potatoes and onions and veggies and some amazing sauce. Good thing I was sick and my appetite was curbed, because I might have gained 5 lbs on fish and potatoes alone!
We toured the Palacio da Bolsa, or Stock Exchange Palace, the highlight of which was the extravagant Arabian Room (I wasn't allowed to take pictures, but you just have to see it, so this one's from Google). Our tour guide was really sweet, a girl from Madeira, who attempted to understand my story, i.e. my odd combination of citizenships, languages, and friends. I felt like such a poser with a Portuguese passport and no linguistic skill to back it up!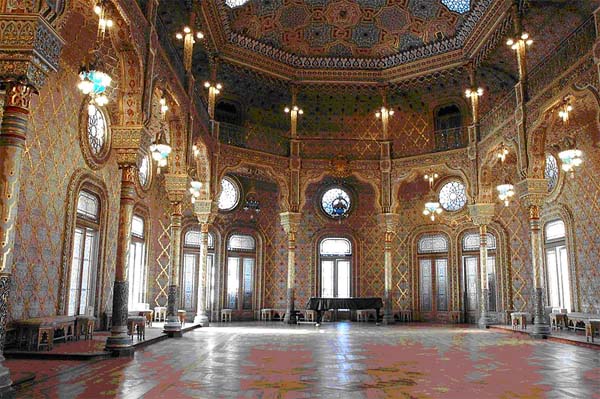 The most beautiful neighborhood in the city was the Ribeira district along the river. There is a beautiful bridge modeled after the Eiffel Tower, lots of colorful houses, and on the opposite bank all the porteries (think wineries, only better).
At a colorful Portuguese restaurant called Chez Lapiz, I ate breaded cod:
A historic spot in the city is Cafe Majestic, where we stopped in for coffee and dessert. It was extravagantly decorated inside, and we felt as if we were dining inside the
Titanic
.
Porto also has what I have read to be some of Portugal's finest
azulejos
, or decorative hand-painted tiles, that usually depict some sort of folk tale. There are several churches whose exteriors are covered in them, and the São Bento Station has particularly descriptive scenes.
Here's a pic of Margot and me out at a place that had less-than-stellar port and the same level of service, but a toilet hanging on the wall, a cinque cento car in the foyer, and a DJ that was absolutely the evil Portuguese twin of my friend James.
Another cool historical joint was the Livraria Lello, with extraordinary detail and intriguing architecture. A highlight was the charming book trolley that's conveniently set on tracks that weave through the store.
One morning I pretended I had energy and opted to climb Clerigos Tower with the girls to find lovely views of the port:
I loved seeing this avó at the food market--she was so cute, tapping her feet together and watching the people pass by. The sanitary conditions at this market were frightful, but the fish still looked mouth-watering.
The best restaurant we ate at was called Ora Viva, right off the Ribeira. It was basically a hole in the wall, with exuberant decor and a very friendly family running the place.
I ordered Cataplana, a delightful seafood stew with monkfish whose broth was seasoned with curry and paprika:
On my way out, I waved into the
cozinha
and launched one last "
obrigada
" to the grandmother, who sweetly covered me with three more.
On our last day the sun finally graced us and we got to see Porto in its full kaleidoscopic glory.
We crossed the bridge into Vila Nova de Gaia to tour a couple porteries. We ended up seeing Taylor's and Croft, two of the 18 companies in Porto. Everyone was so friendly, the tours/tastings were free, and the views of Porto from that side of the river were spectacular!